Nguyen Huu Tri, vice director of the Forest Rangers Committee in the Phong Nha-Ke Bang National Park, has been asked to explain bribe charges against him for receiving money equivalent to 15 kg of Sua wood, according to sources from the Managing Committee of the Park yesterday, May 11.
Tri has been accused of turning a blind eye to illegal felling of Sua trees by loggers who intruded into the Park, cut down and transported the Sua trees out of the park area to sell at high profits.
Sua timber is rare and valuable, and as per local myth, can be used for spiritual purposes and treatment of some diseases in China.
On the same day, forest rangers seized another 300kg of valuable Sua timber, after having seized the first 366kg batch four days ago, in the protected Phong Nha-Ke Bang National Park.
The new haul of timber was uncovered by rangers and was being moved in 50cm width and 2 metre length logs, said to have been cut down by lumberjacks in the park in Xuan Trach Commune of Bo Trach District, informed Luu Minh Thanh, director of the Phong Nha-Ke Bang National Park. However, the rangers have failed to arrest the traffickers so far, said Thanh.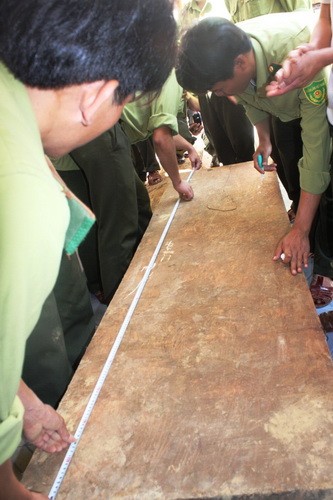 The 2m plank of sua wood seized on Friday. Photo: Tuoi Tre
Thanh said that the chaos in the park had ended now and order has been restored, after the rangers seized more of the timber.
More than 100 rangers of the park, provincial rangers and police were mobilised to catch the illegal loggers, the director said.
The director told reporters that the lumberjacks had hidden the timber in different places in the forest for easy trafficking.
"Many local people go into the forest to find Sua timber as it is so expensive, and it has become increasingly difficult to stop them," he added.
The amount of Sua timber seized so far is estimated at more than VND10 billion (US$490,000) in the market.
Related article:
Rare Sua trees cut down in National Park