Warnings of cracks in the concrete, old scaffolding that wasn't up to the job, and a few if not more technical infringements are surfacing as police continue their probe into the collapse of Can Tho Bridge three weeks ago.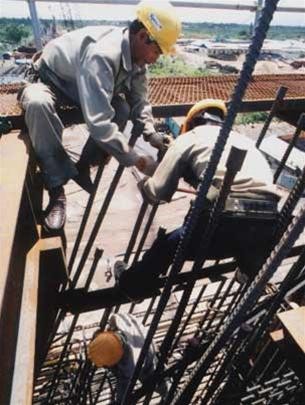 Some of the bridge builders had to work 30 meters above the ground (Photo: Tuoi Tre)
It seems that people who should have known better ignored workers' warnings about the appearance of cracks under the spans, and shrugged off a Japanese engineer's assessment that the scaffolding rated only 15 percent for safety. 
They also ignored a warning that the working conditions were dangerous. 
Police agree that the scaffolding and bracing were of inferior quality, and much if not all of the scaffolding was old, which goes counter to the regulations for major projects like Can Tho Bridge. 
Another violation unearthed by the police is that, when the concrete was poured, the contractor did not stick to the technical requirements, so both the builder and the supervisor were at fault.  
Because of the seriousness of this case, the police are taking the investigation out of the hands of Vinh Long province (where the bridge collapse occurred) and will continue their probe independently.  
They are also threatening dire punishment for the guilty parties once they have been identified.
Related articles:
PM Dung Inspects Can Tho Bridge
Several Injured Bridge Workers Go Home
Bridge Collapse: Suspicion about Alternate Design Was Logical
Bridge Collapse: PM Demands an Answer
Two More Bodies Found in Bridge Rubble
Can Tho Bridge Case to Be Prosecuted
Investigation into Bridge Collapse Underway
Investigators Divided Over Cause of Bridge Collapse
Memorial Service for Victims of Can Tho Bridge Collapse
Leaders Urge Nation to Support Victims of Can Tho Bridge Collapse
Death Toll Reaches 46 in Can Tho Bridge Collapse
Hundreds Killed, Injured as Can Tho Bridge Collapses