Authorities in Cai Rang District in Can Tho City presented a report to the People's Committee of a case in which a naked woman and her daughter tried to protest against construction of a residential project on May 29.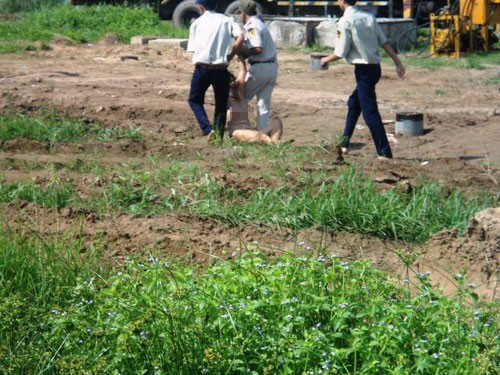 Security guards of the company drag the naked woman from the construction site
Mai Hong Chau, chairman of the People's Committee in Cai Rang District, said that the woman Pham Thi Lai and her daughter Ho Nguyen Thuy stripped naked in protest against a construction company from developing a residential project on reclaimed land. 
The 42.65 hectare residential project was approved by the People's Committee of Can Tho City in 2002 and 157 households of Hung Thanh Commune in Cai Rang District will be relocated to new resettlement areas.
So far, almost 40.85 hectares has been cleared for construction, but 34 households have still to be relocated, including Lai's family, who reclaimed more than 3,000 square metres of land.
In 2005, Lai's family received more than VND292 million (about US$14,000), and in 2010 an additional VND1.25 billion (US$60,000) as land compensation for clearance and resettlement. Besides this amount, the project investor also gave her VND100 million (US$ 4,806) for construction of a house in the new resettlement area.
However, her family did not go with the decisions made by authorities and lodged complaints with many agencies, demanding compensation at market price and 100 square metres of resettlement land for every 1,000 square metres being reclaimed.
In March 2011, Cai Rang District authorities decided to forcibly evict her and hand over the land to the investor. The Can Tho City People's Committee and the Ministry of Natural Resources and Environment turned down her second complaint letter. On September 27, 2006, the Prime Minister directed the city authorities to disperse the compensation amount as decided in their plan.
On May 10, 12 and 22, Lai and her daughter Thuy stripped naked at the site to show their discontent, demand more compensation from authorities and prevent the Construction Joint Stock Company No. 8 from starting construction of the Hung Phu Residential Project in Hung Thanh Commune.
On the same day, Tran Nhan Cu, director of the Construction Joint Stock Company No. 8 wrote a letter in which he acknowledged wrongdoings. He said he did not intervene but let a group of security guards of the company seize the two women and drag them out of the site.
Cu explained that on May 10 and 12, similar behaviour by Lai had held up construction work for the residential project.