Police in Can Tho City arrested two people for forging and selling university graduation degrees and other education certificates via the Internet, on May 26.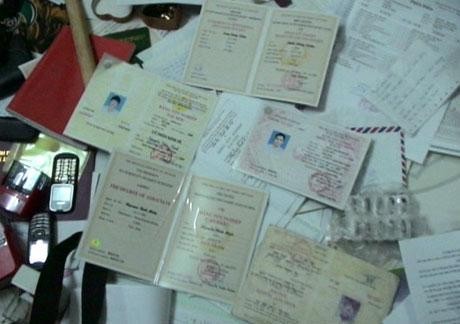 Forged certificates are found at Viet Anh's house (Photo: Nhandan)
The two people arrested were Cao Bang Giang, 30, from Quang Ngai Province and Nguyen Viet Anh, 33, from Binh Thuan Province, who both claimed could supply any educational certificate or degree in Vietnam.
The police made the arrests after the Can Tho City Department of Health had earlier asked them to look into six suspected cases in which fake pharmaceutical certificates were used to open chemist shops in the city.
Police then questioned a woman named Le Thi Tham, who had bought a forged pharmaceutical certificate from Giang to open a medicine shop in Can Tho City. Tham disclosed that she learnt of Giang and his offer of creating forged certificates, via the Internet.
Giang was caught red-handed when he was delivering a fake certificate.
At the police station, Giang admitted to selling forged certificates made by Nguyen Viet Anh, who too was nabbed later by the police.
Until March 13, 2012, Giang had already sold 137 fake certificates, reaping as much as VND160 million.
Later from Viet Anh's house, police seized 180 forged certificates, computers, and stamps with names of colleges, universities and people's committees.