The People's Supreme Court in Ho Chi Minh City is due to start an appeal court on March 20 for hand phone smugglers at the Dong Nam Company, a mobile phone distributor.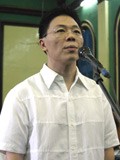 Nguyen Gia Thieu at the preliminary court in November 2005
After the preliminary court in November 2005, all defendants appealed the ruling. One of them was Nguyen Gia Thieu, former director of the company, who was sentenced to 20 years in prison for smuggling and tax evasion.
The others include former customs officers in Ha Noi namely Vu Cong Nam, Nguyen Van Thu, Tran Hong Thai, Luong Thi Duong and Cao Van Nhat, who were given probation from 18 months to three years for "not fulfilling responsibility causing severe consequences."
The other 11 defendants appealed for a lighter sentence.
In her civil issue, Ha Kieu Anh, the former director's wife, appealed to claim US$200,000 that police confiscated from her house. The Ho Chi Minh City People's Court is detaining the amount to assure the execution of her husband's sentence.
Investigation results showed that from 1999 to 2002, Nguyen Gia Thieu imported more than 218,000 mobile phones worth more than US$20 million from Dong Nam Associates Ltd. in Hong Kong. The purchase contracts between Thieu and the company misrepresented the prices of the imported mobile phones, through which he evaded nearly VND100 billion in import taxes.