The Penal Code 2015 will take effect and replace the current Penal Code 1999 from July 1 this year with changes in crime and penalty. Specifically, juridical person will be subject to criminal accusation and eight types of crimes will be removed from death penalty.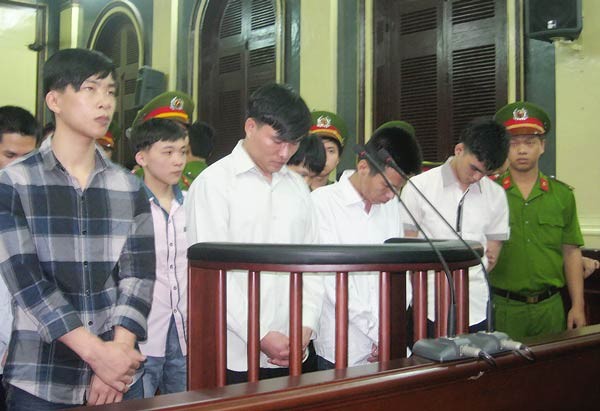 The accused in a gang causing 15 robberies in HCMC including a case in which they cut off a victim's hand in Phu My Bridge. The gang's leader Ho Duy Truc (2nd, R) has been sentenced to death (Photo: SGGP)
Under the current Penal Code, only individuals are subject to criminal prosecution.
During integration phase, Vietnam has faced many negative phenomena considered to be the dark side of the market economy including exclusive violations, unhealthy competitiveness, trade fraudulence and environmental pollution causing serious or particularly serious consequences for society.
In management activities of businesses, many policies are conducted as per decisions by businesses' leaders. Hence, it is unfair and unreasonable to investigate criminal responsibilities to some individuals.
In addition, sanctions to organizations and businesses breaking the law have been insufficient to deter and prevent them from repeating offences. Many enterprises have been willing to pay fines to continue operation.
Therefore, the Penal Code 2015 regulates that criminalization will be applied to judicial person by highly professional judicial agencies under close sequence and judicial procedures. Intensive and professional measures will be used for proving violations, determining damage levels caused by judicial person and ensuring repair and compensation for damage.
According to the new Penal, judicial person must take criminal responsibilities for 31 economic and environmental types of crimes including illegal transport of goods across borders; production, receiving and trade of banned goods; production and trade of counterfeits comprising food, foodstuff and food addictives, medicines, feed, fertilizer, veterinary medicines, plant protection products such as repellent, saplings and breeds.
In addition, there are speculation; tax evasion; illegal printing, issue, trade of invoices and documents related to budget revenue; announcement of wrong information or concealing of information in securities activities; use of internal information to buy and sell stock; stock market manipulation; insurance trade fraudulence; evasion of social, health and unemployment insurance premiums.
The remaining crimes are infringement of industrial property rights and violations of competitiveness; resource exploration, study and exploitation; exploitation, protection and management of forest and forestry products; management and protection of wildlife; polluting the environment; prevention and repair of environmental incidents; protection of safety of irrigation works, dykes and riverbanks; natural disaster prevention; transport of waste into Vietnam; destruction of seafood resources and forest; protection of endangered animals and natural reserves; import and distribution of invasive nonnative species.
Eight types of crimes removed from death penalty
The Penal Code 2015 eliminates death sentence for eight crimes including robbery, destruction of important works and facilities in national security, order disobeying, surrender to the enemy, production and trade of fake food, foodstuff and food addictives; illegal possession and appropriation of drug.
Death penalty will not be implemented to offenders aged from 75 years old; those charged with corruption but proactively paying back three quarters of the corrupted assets, positively working with investigation agencies to deter, inspect and handle crimes and achieving a big feat. These cases will be changed into life sentence.
 
The removal of the death penalty is in accordance Resolution 08 of the Politburo on death penalty reduction and some key missions in juridical operation on January 2, 2012;  and Resolution 49 on juridical reform by 2020 on June 2, 2005; and the Constitution 2013 on protecting human's living rights.