Rumor has it that Major General Cao Ngoc Oanh, deputy chief of the Police General Department and chief of Investigation Police Bureau, has taken bribes from Bui Tien Dung, former general director of notorious Project Management Unit 18 (PMU18), who was arrested in January 2006. The high-ranking police officer told the Sai Gon Giai Phong in an interview that he did not take bribes.

Reporter: Rumor has it that you have taken bribes of hundreds of thousands of US dollars in the recent PMU18 corruption scandal.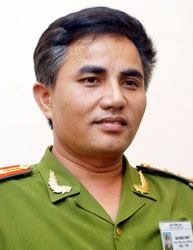 Major General Cao Ngoc Oanh
Mr. Oanh: Not only hundreds of thousands of US dollars. Somebody has denounced that I took millions of US dollars. The Ministry of Public Security is investigating such information. I believe that the investigators will find out the truth soon. From my own experience in fighting crimes, I would say that police have collected enough evidence about who offered bribes to avoid prosecution of Bui Tien Dung because all suspects have been arrested. I don't know how other people think about me. I'm chief of the Police Bureau of Investigation and never dull to take Dung's money. When the scandal broke out, I saw many good chances for career promotion as my superiors trusted me and wanted to promote me to a higher position. No reason for me to take bribes.
Some reports say you and three other officials attended a meal invited by a man called Dung "Hue", controlled by Bui Tien Dung. He arranged the meal at the Melia Hotel in Ha Noi to discuss how to help Dung avoid prosecution.
I affirmed that no discussion for that purpose. It was just a normal meal among five friends: Dung "Hue", me and three other men from a ministry-level agency. I don't spell out their names for a reason I don't want to tell. All of us talked about social issues and job. I remembered that somebody asked me about Dung's gambling, and I said the case was very complicated, and then I left the table. Nobody talked about how to avoid prosecution. I reported all to the Ministry of Public Security's Party Committee.
Five people attended the meal but your first report mentioned just four. You forgot one, and you did not report clearly about Dung "Hue".
Because it was a normal meal so at first, I did not remember Mr. V., a former deputy head of a division of the Police General Department, who has moved to the Government Office to work. When rumors about me appeared, the ministry's Party Committee asked me to report, and I did it immediately. About three days later, Dung "Hue" reminded me of the case. My next report made clear about my ties with him and I proposed the establishment of a special team to investigate information about me. It's a way to clear suspicions against me.
Even worse, rumor has it that Dung "Hue" told Bui Tien Dung on the phone that he had finished his duty.
It is likely that Dung "Hue" wanted to offer me bribes, but it is not true that all who have contacts with him have taken bribes. Or it is likely that he phoned Dung to say he had offered bribes. A fact was he had to help Dung while his son was seriously sick, so he could have said that he had offered money though he did nod do it. Moreover, Dung "Hue" told the police that he brought US$30,000 given by Dung to Thailand for medical treatment for his son.
Dung "Hue" used to say to others that he had close relation with you. Do you know that he had relation with Bui Tien Dung?
I and Dung "Hue" have the same home district in Hue City, but different communes. We knew each other during the childhood. Sometimes he came to Ha Noi for business and phoned me to invite me for meals. I have invited him to my house. This relation is quite normal. I did not care about who he had relation with. Later, I knew that he won some contracts from PMU18 to build roads or bridges. He had relations with many people and often showed off the relations. When he visited my house, I told him not to do anything to harm me, a police investigator. He said never.
Thank you!
Related stories
PM calls on Transport Officials to fulfil their Duties
Former Deputy Transport Minister Arrested