Yesterday, the Ho Chi Minh City People's Court sentenced a Chinese businessman to life imprisonment for defrauding a Vietnamese bank and several enterprises of over VND10 billion (US$625,000).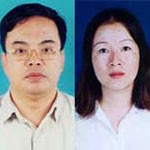 Chan King Fai and his wife Le Thi Khanh Ha.
Fifty-one-year-old Chan King Fai from Hong Kong was found guilty of "frauds and forging documents."
His wife 37-year-old Le Thi Khanh Ha, director of An Thai Co., Ltd., received 10 years in prison for "frauds and appropriating private property".
Two others - Le Tuan Khiem, 43, former of  Director of An Thai Co., and Vuong Nhat Kiet were handed jail terms of 11 and five years respectively.
According to prosecutors, from 1996 to 2000, Chan King Fai provided funds to Ha to set up An Thai Co., Ltd., through which they forged land-use certificates [land titles] and other fake papers to use as collaterals for bank loans.
Chang King Fai also illegally sold a number of storehouses which had already been used as bank collaterals. He was also accused of repudiating large amounts of debts.
Thanks to Khiem and Kiet, Chan King Fai managed to cheat Nam Do Commercial Joint-Stock Bank, Hai Vuong Joint-Stock Co., and other individuals of over VND10.26 billion (US$641,972).
Nam Do Bank's former director Tran Van Phuoc, 60 was also sentenced to 12 years' imprisonment for abetting Chan King Fai to obtain loans.
Besides, To Ngoc Anh, 56, former head of HCMC's Tan Kien Commune government in Binh Chanh District was granted a two-year suspended sentence for "irresponsibility causing severe consequences".