Five Chinese nationals accused of involvement in trafficking nearly eight tons of marijuana into Vietnam last year were brought to the Quang Ninh Province People's Court on December 22 in a first instance hearing.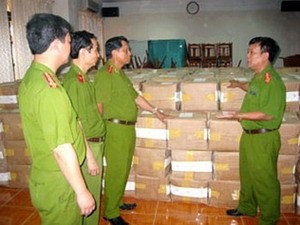 Packages of marijuana totaling nearly eight tons were seized by police in Quang Ninh Province last year (Photo: CAND)
The defendants, including Lu Ming Cheng, Leong Chi Kai, Chan Kwok Kwong, Ngan Chiu Kuen and Wang Hui Lan, have been detained since May 2008 for investigation.

They were charged with "illegal trafficking of narcotic substances" and "illegal cross-border trafficking of currencies."

According to the indictment, on April 24, 2008, Cheng was hired by two Hong Kongese to come to Vietnam to receive two containers of goods sent from Pakistan and then deliver them to Canada.

Cheng agreed to carry out the work for 1.2 million Hong Kong dollars.

On May 12, 2008, when Cheng and his accomplices came to Vu Hai Co., Ltd. in Mong Cai town, Quang Ninh Province to pay a deposit of US$50,000 for taking the two containers, they were arrested.

Checking the containers, police found more than 7,981 kg of marijuana, US$10,485, over 1.07 million Hong Kong dollars and 278,262 yuan, 12 mobile phones and more than 19,700 pairs of jean.

The hearing is expected to end on December 25.