The Institute of Criminal Sciences under the Ministry of Public Security on December 3 alleged that imported plant growth stimulants from China contained a banned substance.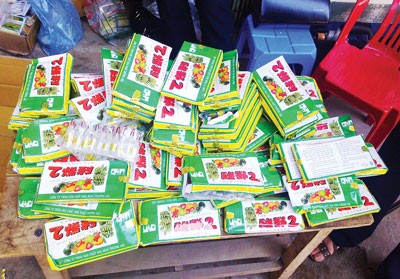 Plant growth stimulants seized by police and market management in Hanoi (Illustrated photo:SGGP)
Tests showed that tubes of liquid plant growth stimulants contained 6-Benzylaminopurine that stimulates plant growth, generating fast blossoming and enhancing taste.
The Vietnamese Ministry of Health has banned the chemical substance in processing of food items.
The substance is also banned as a plant growth stimulant. Moreover, these tubes have high content of alkaline that can cause skin burn or loss of vision.
Earlier on November 11, the Environment Police and market management teams in Hanoi had seized a large amount of plant growth stimulants without clear markings at Yen Vien Train Station in Gia Lam District.
About 80,000 tubes of liquid stimulants were uncovered in a truck with Chinese labels. The driver could not produce any certificates of origin and said he was only transporting the stimulants to the southern provinces.