The illegal import of cigarettes has been increasing and caused Vietnam heavy tax losses totaling VND10 trillion (US$445.19 million) a year for the last two years, reported major general Pham Van Mien, editor in chief of Cong An Nhan Dan (People's Police) Newspaper yesterday.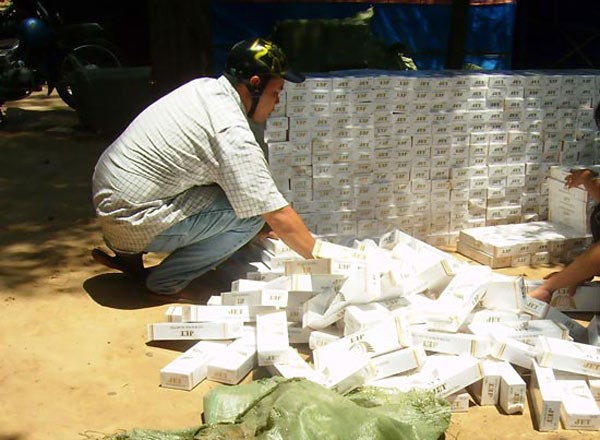 Border military force seize 24,000 packets of illicit cigarettes in Duc Hue district, Long An province (File Photo: SGGP)
Tax losses reached VND6.5 trillion in 2012 and increased to VND6.7 trillion in 2013, said Mr. Mien at seminar hosted by the newspaper and the National Steering Committee on Combating Smuggling and Trade Fraudulence, which is known as Steering Committee 38 in HCMC.
Cigarette smuggling has been the second largest profitable industry after drug, he added.
Recently, illicit cigarette import has returned to be complicated and seemed to be public and provocative to anti-smuggling forces.
Traffickers have not only transported cigarettes across the border and further inland with primitive means of transport but also with taxi cabs, trucks and even blue-color plate cars used by Government officials.
They usually operate in groups and drive motorbikes at high speed to carry illicit goods causing unsafe traffic condition. Worse, many have been willing to oppose anti-smuggling forces when being spotted and deterred.
Smugglers tried to rob illicit cigarettes seized by the forces and beat an official to death in mid September.
Yesterday, an object drove motorbike to run into and injure two officials from a special mission team on anti-drug in Dong Thap province, said deputy head of the provincial Customs Department Nguyen Thanh Toan.
Mr. Vo Thien Ngo, deputy head of the Market Management Department in Long An, said that anti-smuggling teams are very thin and insufficiently equipped with necessary means such as motorboats to fight smuggling.
Moreover, the overlapping among legal documents has raised difficulties for authorized agencies to file criminal charge against cigarette smugglers.
Specifically, the Government's Decree 124 regulates that they will face criminal charge for trafficking from 500 packets of cigarettes.
The number however is from 1,500 packets in the joint circular no. 36 of the Politburo, Public Security and Health Ministries, the Supreme People's Procuracy and the Supreme People's Court.
Mr.Ngo proposed to supplement human and material resources for anti-smuggling forces and adjust the circular to suit the decree and facilitate handling of traffickers of less than 1,500 packets of cigarettes.