A total 51 businesses in Ho Chi Minh City were shutdown for serious environmental pollution, the Department of Natural Resource and Environment announced November 4.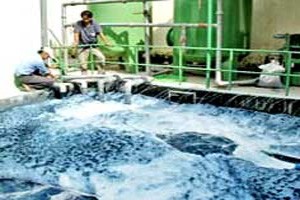 The inspectors discovered that Viet Thang Jean Company dischaged some 360 cubic meters of untreated wastewater, dust and other pollutants into Rach Chiec River, harming the environment and public health. (Photo: SGGP)
According to Nguyen Thi Du, the department's chief inspector, during an investigation of 345 businesses, 51 had failed to comply with environmental laws and regulations.
The wastewater and exhaust gas at those firms had been at least more than five times legal limits for normal waste and three times for harmful waste, said Ms. Du.
Based on regulations, the firms had to be closed with immediate effect in order to prevent further harm to the local environment and public health, she added.  
She said it was difficult to close such businesses for environmental violations some years ago, but through cooperation with the city's electricity company, serious polluters can now have their power cutoff.
Many businesses have now pledged to implement waste treatment and prevention of environmental pollution since such coordination.
The department is strengthening its powers and carrying out further unscheduled checks in order to enforce compliance of environmental law.