Ho Chi Minh City inspectors announced December 21 that they would inspect all projects invested in by the Hoang Hai House Investment and Trading Joint Stock Company in Hoc Mon District.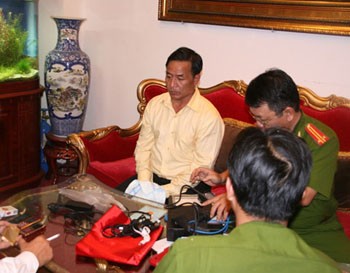 Police search the home of Ngo Quang Truong in November (Photo: Datviet)
The decision follows a scandal in which company director Ngo Quang Truong reportedly hired a gang October 15 to kill his deputy director Dang Ngoc Sy for denouncing violations of the company while carrying out projects with authorized organizations.
Inspectors will spend 45 days investigating the company's conduct as related to land use and rights-transfer, site clearance and compensation, resettlement arrangements, and mortgages for bank loans.