The deputy leader of Ho Chi Minh City yesterday visited a man who is in hospital following a brutal attack by a bunch of thieves for foiling one of their robbery attempts last week.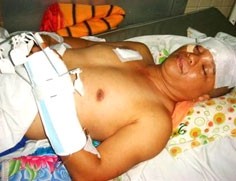 Lieutenant colonel Trinh Xuan Tam being cured in the hospital
Vice Chairman Nguyen Thanh Tai of the city People's Committee visited Trinh Xuan Tam in Hospital 175 and hailed him for setting a "shining example".

The incident happened on the night of April 2. Mr Tam, 46, a lieutenant colonel in the Air Force and living in Ward 13, Tan Binh District, heard a shout for help from a neighbor who was parking her scooter in front of her house.

Two young men had accosted her and were trying to snatch her cell phone.

Tam along with other locals chased after the robbers but they escaped.

But 30 minutes later, four big men, including the two robbers, arrived in Tam's house.

One of them used a sword to slash the left shoulder of Tam's 15-year-old son who was exercising in front of the house. They then burst into the house and set upon Tam with swords.

Tam's son too was back into the house and Tam had no choice but to place himself between the attackers and his son to protect the young man. Thus, he was unable to defend himself or fight back, and the gangsters repeatedly stabbed him with their swords until he collapsed.

Tam's family rushed him to Cho Ray Hospital from where he was transferred to Hospital 175 a few days later.

Dr. Nguyen Ngoc Kha, deputy director of the hospital, told Mr. Tai that Tam had suffered multiple traumas and his skull had been fractured in two places.

He is recovering and Dr. Kha said he could be discharged in the next two or three weeks after the slash wounds in his right arm and left hand healed. His skull injuries would take around five or six months to heal, he added.

Mr. Tai was moved by the selflessness of Tam and the other neighbors, and said his action should inspire all city residents to join a campaign called "Everyone in Defense of National Security."

He wished Tam would get well soon, gave VND5 million to his family, and requested the doctors and nurses to take good care of him.

Lieutenant General Pham Nam Tao, deputy general director of the Ministry of Police's General Department of Police, yesterday directed police forces nationwide to assist the Tan Binh District police in catching the gangsters.

He pointed out that the incident would make the public apprehensive about taking on criminals.

Ho Chi Minh City police officials met Tan Binh District police officers the same day to discuss the results of their preliminary investigations and continuation of the probe.