The Counter Narcotics Office under HCMC Department of Public Security has informed of a crack down on a transnational drug trafficking ring.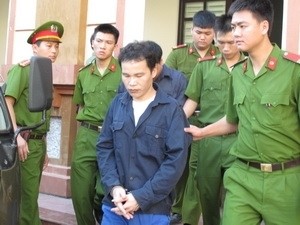 Nguyen Trong Tuan is sentenced to death for trafficking and selling heroin
From the beginning of 2013, the narcotics police had kept a close watch on the suspect, Tran Thi Hoa, 48, in Tan Binh District of HCMC, who they believed was involved in drug trafficking from Laos to Vietnam.
Tran Thi Hoa was the leader of the drug trafficking ring that operated from the central province of Nghe An to HCMC.
Her son, Nguyen Tuan Vu, 21, along with Pham Thanh Binh, 36, from Nghia Dan District in Nghe An Province, helped her sell drugs to addicts.
In her testimony, Hoa said that during one of her earlier trips to Laos, she had made acquaintance with a Lao man named Khamly.
In August 2012, Hoa again bumped into Khamly from Vinh City in Nghe An Province where Khamly revealed to her that he had many methamphetamine pills and was seeking customers.
Later, Hoa and Binh joined hands in selling drugs to consumers in Districts 8, 10, Tan Phu, Cu Chi, and some discotheques in HCMC.
In related news, the People's Court of Nghe An Province sentenced Nguyen Trong Tuan to death for trafficking and selling heroin. Tuan led a transnational drug trafficking ring in Vietnam.
According to the indictment, between October and December 2012, the ring smuggled 208 cakes of heroin weighing 72.8 kg and 30 grams of other synthetic narcotics.