One person died and four were seriously injured in a scuffle between a man and shop assistants on Nguyen Trai Street in District 5 of Ho Chi Minh City on December 26, with police accusing and arresting two for attempt to murder.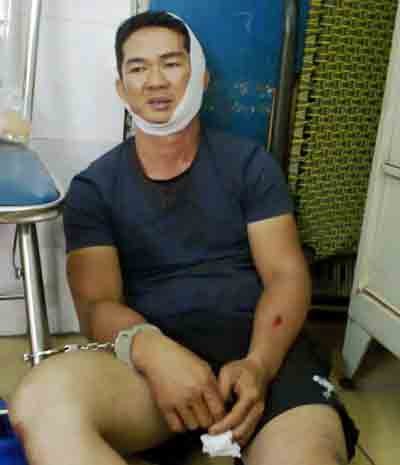 Nguyen Trong Tri has now been arrested for murder (Photo: Hoi Vu)
On Tuesday, district 5 police officials arrested Nguyen Trong Tri, (born 1975) in District 4 and Ly Thu Nga, (born 1984) a Vietnamese-Australian woman, for attempt to murder.
According to initial investigations, on December 26, Ly Thu Nga arrived at a fashion shop to buy clothes. When she entered the shop, Nga was asked to take off her jacket by the shop assistants so it could be hung outside.
Nga refused to hand over her coat as it had been purchased in Australia and she did not want it mixed up with other clothes hanging outside.
The shop assistants insisted and forced her to hang her coat outside, which was objectionable to Nga and she took great offence to this behavior.
Red with rage and feeling most humiliated, Nga phoned her friend Tri and told him of the incident. Tri arrived promptly at the shop, and venting anger at the shops assistants, he lashed out at them branding a knife which he pulled out from his motorcycle trunk and stabbed one of the assistants first, then set out to attack others present in the shop.
The assistant, Huynh Chi Thang, (born 1986) and hailing from the Mekong delta province of Ben Tre, died soon after. Others who were injured including Tran Trong Nghia and his son Tran Trong Thanh, Pham Loc Quan, Nguyen Minh Hai were all rushed to hospital with serious stab wounds.
Tri was hit on the head by the chief shop assistant, and was admitted to the People's Hospital 115 with head injuries.
Witnesses gave police the number of Tri's motorbike which helped them to trace him. When Nga arrived at the hospital to meet Tri, police were waiting to arrest both for murder. Both Nga and Tri were taken into custody at 11 pm on December 26.