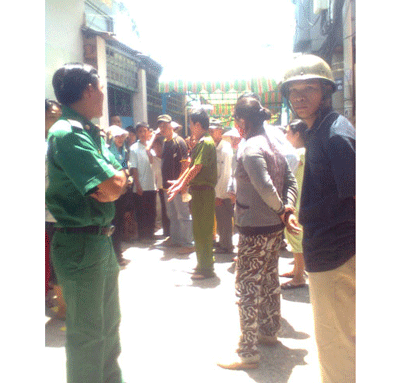 Police conducting serach of the house of Colonel Chuyen to find out evidence
Police in District 6 of Ho Chi Minh City on March 15 transferred the case of a woman suspected of murdering her husband, and all related documents, to the Criminal Investigation Police for further probe.
Police had earlier arrested Du Kim Lien, 45, from Hau Giang Street on suspicion of trying to kill her husband, Colonel Chuyen, by poisoning him.
Colonel Chuyen was found unconscious in his house on the morning of March 12, showing symptoms of poisoning.
In an initial testimony to the police, Lien confessed she and her husband, 50-year-old Colonel Tran Xuan Chuyen, working in the Phu Lam police station in the Ho Chi Minh City Traffic Police Department, had fought and argued with each other, as he had disapproved her   borrowing excessive amounts of money which she was unable to pay back.
She admitted to the police that she had killed her husband with sleeping pills and insecticide doses.