Ho Chi Minh City police busted an illegal Korean match-maker yesterday despite the latter's elaborate subterfuge to avoid detection.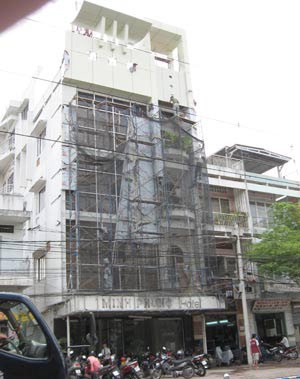 Minh Phung Hotel where the police found the two koreans sizing up "prospective brides"
The Bureau of Investigation on Social Order, or PC14, caught two Korean men, Seo Yun Young, 43, and Kim Jin Suk, 32, as they were sizing up prospective "brides" in district 11's Minh Phung Hotel.

Yu Mi Yeon, real name Nguyen Thi Tuyet, the broker, was also arrested, as were nine girls who had agreed to meet the men.

The women are mostly from the Mekong Delta provinces of Can Tho and Kien Giang.

To throw dust in the police's eyes, the women were asked not to congregate at the hotel, but at a coffee shop in nearby Nguyen Thi Nho Street. They were driven two at a time to the hotel for the two Korean men to appraise.

Yu, 35, confessed to the police that she got US$500 from every man who found a bride.

Born in the central province of Nghe An, she herself married a Korean man in similar fashion 15 years ago.