Police in Binh Chanh District of Ho Chi Minh City disrupted an ongoing cock fight and took into custody 124 people on charges of illegal gambling.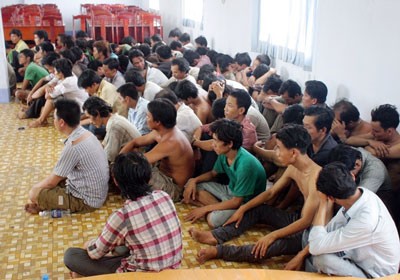 124 people were taken into custody from a cock fighting spot in HCMC
On June 9, the Binh Chanh District Police Department mobilized nearly 100 officers to crash a cock fighting game and arrest 124 gamblers, at a vacant piece of land near Le Minh Xuan Industrial Zone in Binh Chanh District.
Police officials seized about VND100 million (US$4,752), eight fighting cocks, 62 cell phones and 60 motorcycles from the scene.
The cock fighting game has been operating on this piece of vacant land since before last Tet Lunar New Year everyday from 9am-3pm, with betting rate around VND3-5 million per game.
According to police investigation, 23-year-old Cao Hoang Quan from the Mekong Delta province of Ca Mau was commander of the cock fighting spot and was running and managing the operations.