Police in Ho Chi Minh City had uncovered a large consignment of high fashion clothing and accessories from four trucks in the downtown area last November, and are now preparing to prosecute the concerned individuals.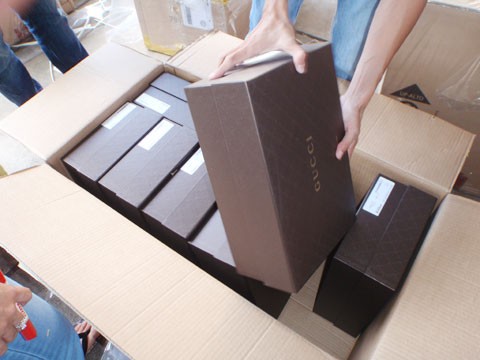 Experts from Italian Gucci Company verifying the consignment
Police officials from the Department of Economic Management and Related Crimes had caught a large consignment of high fashion clothing and accessories under the Gucci and Dolce & Gabbana label from four trucks while transporting the items to a fashion shop inside the five-star Saigon Sheraton Hotel in the downtown area of the City.
In all 1,253 items were seized.
According to initial findings, the persons smuggling the items from abroad had brought the goods into Vietnam and then asked the legitimate shop owners to show legal import of the high fashion goods.
The goods were said to be of Chinese origin and worth a mere US$1.8-7 per item.
 Hence, the consignment had been taxed less than VND27 million ($1,300).
Police authorities had asked the Italian fashion companies to have the consignments checked. Company experts confirmed all of the goods as genuine, proving that the consignment owner has deliberately evading import tax of tens of billions of dong.
Police are preparing a case so as to penalize and prosecute the smugglers.