Ho Chi Minh City police have recommended the prosecution of nine people arrested on charges of smuggling and bribing customs officers.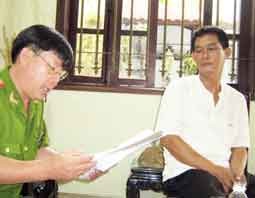 Nguyen Van Hoa (R) 
The Ho Chi Minh City Investigative Police Bureau of the Ministry of Police said it had completed its investigation into a network that smuggled 103 containers of precious wood to China.

Police said on December 2006, Nguyen Van Hoa, former director of Kim Loi Co., Ltd. in Tan Uyen District of Binh Duong Province, was approached by a customer from China, who wished to buy a large volume of teak and rosewood.

Hoa bought the wood from a local market but since he could not export the wood without certificates of origin, Hoa decided to collude with customs officials to export the wood to China.

Through some intermediaries, Hoa approached Nguyen Viet Nam and Nguyen The Van, who worked as customs officers at Cat Lai port, to help him illegally export 1,778.114 cubic meters of precious wood, worth over VND26 billion (US$ 1,533,923), through Cat Lai port.
The police arrested Hoa in November 2007 and Nam and Van in June 2008.

As well as Hoa, Nam and Van, police have arrested six others on charges of acting as intermediaries for Hoa and offering bribes to customs officials on his behalf.

HCM City police said the precious wood smuggling ring was the largest they'd ever discovered.