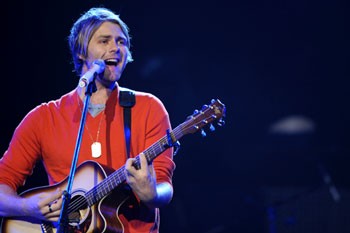 Brian McFadden, former member of the renowned Irish boyband Westlife, performs in the second Hennessey Artistry Night in Hanoi on October 6. (Photo: Vnexpress)
HCM City's Department of Information and Communications has recently required the Performing Arts Department's, part of the Ministry of Culture, Sports and Tourism, not to allow   art performances to be named by alcohol brands, such as Hennessy.
According to the city's Department of Information and Communication, the annual Hennessey Concert (or Hennessey Artistry Night) in Hanoi is a form of advertising for the alcohol brand.
According to a related law, signed in 2003, any alcoholic brand over 15 degrees ABV cannot be publicly advertised, accept in places where it is produced and sold.
This year concert was held in Hanoi on Oct. 6 with performance of Brian McFadden-former member of Boyband, French Pop music singer Lenka, group Boys Likes Girls...