Ho Chi Minh City residents have expressed unconditional support towards a campaign organized by the Ministry of Public Security to crack down on criminals, be it drugs, robbery or fraud, from December 16 this year until February 15 next year.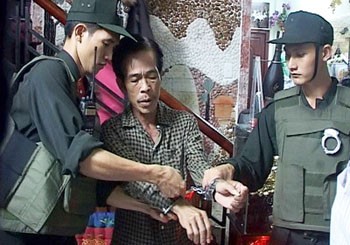 Police officials arrest an underworld gang leader (C) (Photo: SGGP)
The city is among 18 provinces and cities supporting the campaign.
Tran Tien Duc from Tan Phu District said that it is necessary to crack down on instances of social disorder, so as to make residential areas safe and secure. The police should simply wipe out underworld gangs and more security should be moved into industrial and export processing zones to deter robbers at year end.
According to Tran Thanh Phuong from District 3, the police should unsparingly crack down on those who have no qualms of hurting, injuring or stabbing others to rob as well as anyone fearlessly attacking a police official on duty.
Residents play an important part in fighting criminals. Over the last ten years, HCMC residents have continually provided information against offences and assisted police in solving over 161,000 cases and helped arrest about 20,500 offenders. 
However, several people were apprehensive and feared for their lives, from vindictive criminals seeking revenge.
Tran Kim Ni from District 1 said that besides encouraging residents to turn informants against criminals, police organizations should establish an effective network to receive information and act on cases immediately, without delay.