Inspectors from the Ministry of Culture, Sports and Tourism, together with police, have found use of unlicensed computer software at two companies in Ho Chi Minh City and neighboring Binh Duong Province.

This inspection is part of Government efforts to crack down on software piracy and to propel further development of the local information technology industry.
The inspectors and police officers raided Tran Duc JS Company in Thuan An District, Binh Duong on May 31. Checking 39 computers, the task force and found hundreds of illegal software programs installed and used for business purposes.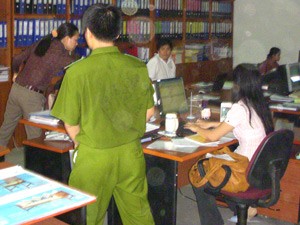 Inspectors and police check computers at Tran Duc JS Company in Binh Duong Province on May 31 (Photo provided by the inspection team)
The software programs included Microsoft Windows XP, Microsoft Windows 7, Microsoft Office 2003, Microsoft Office Enterprise 2007, Windows Server 2003, Lac Viet 2002 Dictionary, AutoCAD, and Adobe Photoshop.
The next day, search at VIMEDIMEX Pharmaceuticals in Ho Chi Minh City's Binh Thanh District uncovered hundreds of pirated software programs installed on 46 computers used for business. The programs included Microsoft Office 2003, Windows XP, Windows Vista, Window 7 and LacViet MTD 2002.
Representatives from the two companies acknowledged that the unlicensed installations are an infringement of the law on intellectual property.
The inspectors ordered them to cease infringement, uninstall all the unlicensed software and contact the respective software owners to negotiate legalization of the use.
Mr. Vu Xuan Thanh, chief inspector of the Ministry of Culture, Sports and Tourism, said that in 2009, respect for software copyright among major companies showed obvious improvement. Through 27 inspections done, a few companies were found without even one illegal software program installed or some others with very few pirated software.
Piracy however, remains rampant among small and medium sized companies and calls for strong actions as well as more education to raise awareness in compliance with software copyrights, he added.
"It's time companies review their computer software use and seriously consider compliance with software intellectual property rights to avoid unnecessary conflicts with the law caused by such behaviors," he said.