Police in the northern province of Thai Nguyen have arrested a couple for killing Vu Duong Binh, chairman of the Tan Cuong Hoang Binh Group JSC, said Colonel Dang Duc Dang, Vice director of the Police Department in the province.
Linh Thi Kieu, 25, a native of Quang Ninh Province, and Do Van Tung, 27, from Hai Duong Province, were arrested on January 28 soon after they were saved by doctors from a failed suicide attempt in Nghe An Province.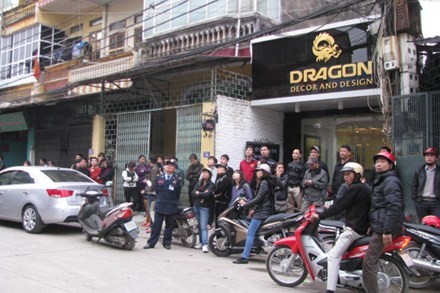 The scene of the murder (Photo: Laodong )
Chairman Vu Duong Binh, 56, was found dead in a pool of blood in the toilet of room 508 in Mai Dan Hotel in Thai Nguyen City on January 26. The murder caused anxiety among the public as Tan Cuong Hoang Binh Group JSC is one of the largest tea companies in Thai Nguyen Province.
Police said he died of 11 stab wounds in the chest, neck and some other parts of his body.
Kieu said she enticed Binh and telephoned him to come to the hotel that day 'to make love'. She also told Tung, who was her lover, to lay in ambush inside the closet of the hotel room.
When Binh came, Kieu and her young boyfriend Tung overpowered him and tied his hands and feet and gagged him with adhesive tape.
As Binh resisted, fearing that the noise would cause attention of other hotel occupants, Kieu and Tung used a knife to stab him many times to death.
After Binh died, the two took from him two mobile phones, two ATM cards worth VND200 million (US$9,600), and a certain amount of cash. They then dragged Binh's body to the toilet.
The murderers later left Thai Nguyen Province and hid in a hotel in Vinh City in Nghe An Province, but they were so frightened that they tried to commit suicide by taking pesticide.
Hotel staff discovered their suicide attempt in time and took the couple to a local hospital.
The hospital later found the ATM cards bearing the name Vu Duong Binh in the patient's belongings and reported to the police, who later detained the couple.
After recovery, the couple pleaded guilty for killing Binh and police brought them back to Thai Nguyen Province.