An appeals court in Ho Chi Minh City reduced the original sentence against Pham Minh Hoang, convicted of writing anti-government documents, from 3 years to 17 months, on November 29.
56-year-old Hoang was sentenced in August this year after his arrest in August 2010.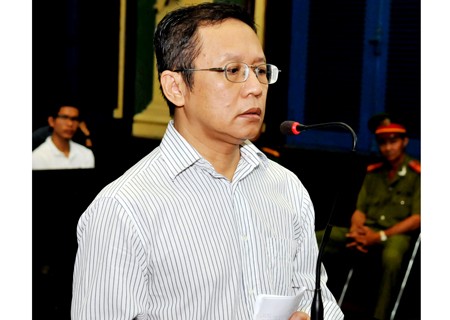 Pham Minh Hoang at the trial
At the appeals court trial, Hoang expressed deep regret and said that he had been misled and lured by the overseas reactionary group Viet Tan. He has pledged to end all links with Viet Tan and begged for the state's mercy.
According to the court, the jail term for Hoang in the first trial was appropriate but it wanted to consider the fact that Hoang had been cooperating with the police and had committed himself to living within the laws of the country after serving jail term. As a result the court considered reducing his sentence on humanitarian grounds.
The appeals court, however, imposed a three year house arrest for Hoang after he completes his sentence.
According to the court, Hoang went to France in 1973 to study and later accepted French citizenship. He told the court that he became a member of the US-based Viet Tan Party while studying in France.
Hoang was recruited as member of the overseas reactionary group Viet Tan in 1998. He returned to Vietnam in 2000, still under the influence of the Viet Tan party, and took up job as lecturer at the Polytechnic University in Ho Chi Minh City. He holds a master's degree in applied mechanics.
Hoang applied to regain Vietnamese citizenship in 1997 and once again became a Vietnamese citizen.
From July 2002 until May 2010, Hoang wrote 33 articles under the pen name Phan Kien Quoc that distorted the leadership of the Communist Party of Vietnam, of the government of Vietnam and undermined the image of the country
His activities were premeditated and carefully planned in collusion with reactionary organizations of Vietnamese communities living abroad and other hostile forces, aimed at carrying out a so-called "peaceful change" within the country, the court said.
Hoang also attend a course in Malaysia in November 2009, organized by Viet Tan, where he learnt the methods of non-violence to overthrow the regime.
After his return to Vietnam from the training course, Hoang and several overseas Vietnamese held two soft skill training courses for 43 youth and students in Ho Chi Minh City, aimed at recruiting them into the Viet Tan Party.