The People's Supreme Procuracy has recently taken legal action against 17 people allegedly involved in a scheme for producing and trading counterfeit electric meters, causing serious losses to the state budget.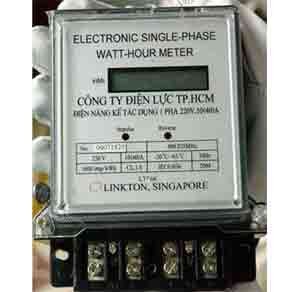 A counterfeit electronic meter produced by Linkton Vina (Photo: Tuoi Tre Online)
Among them, 12 are former high-ranking officials of HCMC Power Co., including Le Minh Hoang, director, Le Van Hoanh, deputy director, Nguyen Ngoc Ho, manager of sales, Nguyen Van Hiep, technical manager, Le Van Tinh, manager of Material Department, and Pham Kim Hung, accounting manager.

They are charged with deliberately violating state economic regulations.

The other five accused were employees of Linkton Vina, a Vietnam-based subsidiary of Singaporean company They are: Tran Cong Dien, Tran Thi Lien, Phan Huu Quang, Nguyen Trong Hieu and Dang Thi Kim Lien, who are charged with manufacturing and trading counterfeit goods.

The court was told that in 2005, Le Minh Hoang, as director of the HCM City Power Company, organized a tender to buy 312,000 fake electronic meters worth VND181.5 billion ($10.4 million) from Linkton Vina, despite the Singaporean company not submitting all the required legal papers.

After Linkton Singapore won the tender, Won Justin Kaleung, Wong Ka Ho and Tran Thi Lien imported cheap components for the assembly of counterfeit electronic meters in Vietnam. The meters were then labeled with Linkton Singapore brands and supplied to HCMC Power Co,

Based on the 14 signed contracts, the HCM City Power Company paid nearly VND181.5 billion to Linkton Vina for inferior products.

The actual loss in the end, however, was only VND8.1 billion as all the counterfeit electronic meters were later modified and put into use, in accordance with a directive from Prime Minister Dung.

Le Minh Hoang is accused of deliberately breeching the law when organizing the tender and not having the electronic meters checked before putting them into use, as required by law.

Wong Justin Kaleung and Wong Ka Ho, former chairman and deputy general director of Linkton Vina, respectively, have fled Vietnam. They are wanted by the police for alleged tax invasion.

The case will be heard by the HCMC People's Court.