The man and wife who tortured a 14-year-old boy for over one year each received twenty-three year sentences, ending the high-profile court case held in the Mekong delta province of Ca Mau.
There were no empty seat in the courtroom so people stand up outside to hear when the sentences  handed down (Photo : Tuoi tre)
After media released news of a 14-year-old boy's mistreatment by his employers at a tiger shrimp farm in Ca Mau province, the public reacted angrily; therefore, there were so many people flocked to the trial when the sentences were handed down. 
Court proceedings in the province's Cultural Center had to be stopped twice when the accused Ma Ngoc Thom fainted. An impatient crowd shouted their disapproval and called for the hearing to go on. The defendant Thom reappeared looking pale and was allowed remain seated while answering questions.
The 14-year-old victim, Nguyen Hoang Anh, was employed to work for the couple Huynh Thanh Giang, 30, and Ma Ngoc Thom, 33, as of October, 2008.
The couple confessed to pouring boiling water on the boy's back, pressing a hot electric iron on his legs, stuffing hot coals in his mouth, and using pincers to break five of his teeth and a razor blade to cut his back.
Forensic examinations of the victim proved that he had broken teeth, burn marks, a broken nose and a swollen face, all allegedly the result of constant beatings and torture administered by Giang and Thom. The couple also ordered two other employees, Lam Ly Quynh and Luu Van Khanh, to help them beat the poor boy.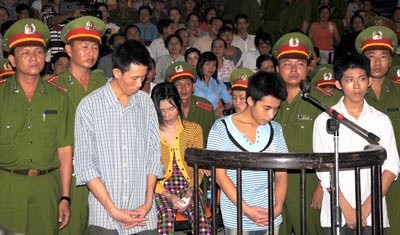 Giang, two employees, who help him torture Hoang Anh, and his  wife (sitting), appear in the trial. (Photo: SGGP)
At the court, the husband Huynh Thanh Giang and his wife retracted the statements they initially gave police, saying that the boy had fallen accidentally into boiling water and that he had only beat the boy on his bottom.

However, after a period of denial, Giang admitted that the couple had committed the crime of intentionally causing injuries to their employee.

Two employees who had helped the couple to torture the boy received prison sentences of a year and a half each. In addition the accused persons have to pay Hoang Anh the total of VND50 million as compensation.

While the court case has concluded, the physical and mental suffering endured by the 14-year-old victim during his year in captivity, still haunts the public. The case has raised an alarm for people to pay more attention to their neighbors and people around them to discover such crimes and save vulnerable persons from this kind of mistreatment.