Investigation police charged and arrested two customs officers who allowed 103 containers of valuable wood to leave the country without the exporter being charged a tariff.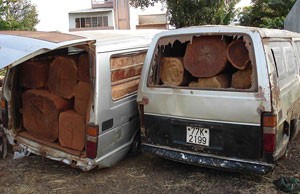 A valuable wood smuggling uncovered in Dak Lak province
On the same day, after thoroughly searching their office, the police found documents dealing with the smuggling.
Nguyen The Van and Nguyen Viet Nam, who work in the city's Customs Department, took advantages of their position to certify that the containers held only coconut fiber, according to police.
This allowed Mac Van Nguyen, director of Nam Nguyen Ld. Company, to complete the custom documents and export the wood to China, costing the state budget billions dong.
The smuggling was uncovered in May and the police have detained six persons already.
One of the most important members of the ring, a former director of Chau Minh Film Advertising Company, has disappear. The police have issued a wanted notice for him.