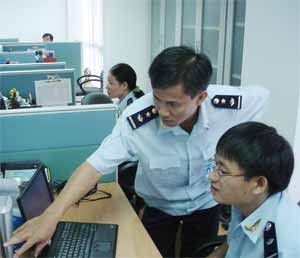 Viet Nam's General Department of Customs's intelligence agency will help to fight against smuggling and import tax evasion. (Photo: Tuong Chau)
Viet Nam's General Department of Customs (GDC) recently submitted to the Ministry of Finance its plan to establish an intelligence agency, aiming at fighting smuggling and import tax evasion.
According to Nguyen Khanh Quang, Deputy Director of the Anti-smuggling Department of the GDC, the plan presents practical solutions to some pending issues concerning the department's human resources and operation.
Detailed structure and activities of the intelligence agency are expected to be passed in the next few days.
In case the Ministry of Finance approves the project, the new intelligence force will fall under the GDC's Anti-smuggling agency.
Besides, many other intelligence units will be developed in major industrial cities of Ha Noi, Ho Chi Minh, Hai Phong.
According to Deputy Minister of Finance Truong Chi Trung, the new agency and its forces will collect and analyze information to help customs bodies fight illegal shipment of goods and make decisions on goods inspection at ports.
It is very necessary for the intelligence force to stop tax evasions which now happen regularly, said Mr.Trung.
Recently, 23 auto importers have disputed with the GDC over price listed at import against actual sale price on a shipment of sport utility vehicles, he added.