The People's Court in the Central Highland City of Da Lat began hearings yesterday on a case of deforestation of 1,134 pine trees in the Mang Lin Hamlet of Ward 7.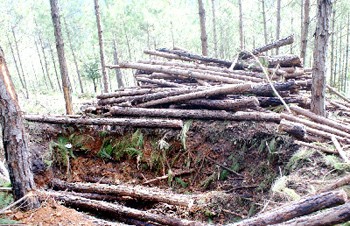 Over 1,000 pines tree were cut for a coffee plantation in Da Lat City last year. The city People's Court heard the case on April 28 (Photo: SGGP)
44-year-old Le Van Long was sentenced to 36 months probation. He was also forced to compensate VND36 million (US$1,700) and pay a penalty of VND7 million.
The others under the same probation period are Vu Dinh Tho, 44, from Quang Nam Province, Lu Van At, 22, Moong Van Kham, 21 and Vi Van Cong, 18, from Nghe An Province.
According to the case indictment, between July to September last year, Long paid At, Kham, Tho and Cong to cut down 1,134 pine trees in Mang Lin Hamlet to clear land for a coffee plantation.
About 2.5 hectares of pine forest was cleared to make way for a coffee plantation. By September of last year, over one hectare of land was covered with coffee plants.
In related news of the same day, leaders in Lac Duong District said  they had proposed to the Lam Dong Province Peoples' Committee to compel Thanh Van Commerce and Service Ltd Company to compensate VND1 billion (US$47,000) for allowing deforestation to take place.
Since 2008, the company has received 13 hectares of forestland in the Da Sar Commune for a project to plant ornamental trees and flowers as well as to breed livestock and salmon.
However, the company has not yet carried out its project and has neglected to protect the forests, leading to deforestation of hundreds of pine trees.
Relevant authorities in Lam Dong have determined that the destroyed area is about 2.1 hectares, causing a VND1 billion loss of forest products besides the detrimental damage to the environment.