Police in Da Nang City have bust and arrested members of a gang that were dealing in fake certificates and seals for the last ten years.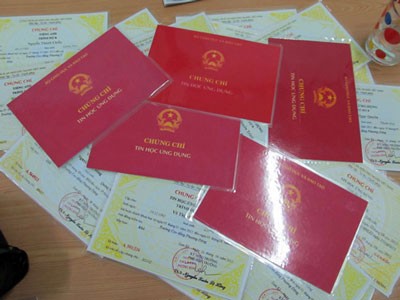 Police seize fake diplomas and certificates after raiding a house
Ring leader Dang Tuan Anh, 56, from 71B Thai Phien Street in Hai Chau District has been arrested by the police.
In October 2012, following a lead that a person had used a fake certificate of Duy Tan University, the Social Security Department   investigated and uncovered a gang making fake documents and seals for the last ten years.
On December 1, police raided a house and discovered 30 fake seals, 150 fake stamps for diplomas, many student score sheets, several tools for counterfeiting diplomas and seals, and more than 1,000 fake diplomas and certificates of many universities, colleges, vocational high schools, foreign language and computer science centers.
On December 7, police arrested Nguyen Xuan Hoang and Nguyen Xuan Hoang, both 54, Nguyen Hoang Minh, 34 and Tran Ngoc Anh, 60. All four have been charged with 'faking seals and material of agencies and organizations'. This is the biggest case of its kind uncovered in the City so far, said the police.
Colonel Truong Van Thanh, chief of the investigation police, said the gang had been in operation for the last 10 years, producing thousands of false certificates and diplomas for customers in the central and highland regions of Vietnam.
University certificates were sold for VND2.5 million ($120) and other documents sold from VND500,000- VND1 million($24-$48) through middle men who jacked the price four times higher.
Police are continuing their investigation of the case.