After some delays, the Da Nang People's Court August 6 opened the trial of former chief inspector of the Ministry of Public Security, Major General Tran Van Thanh, and his alleged accomplices for falsely accusing many Da Nang leaders of illegal actions.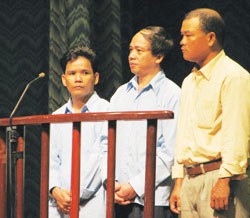 The defendants at the trial in the Da Nang People's Court on August 7 (Photo: Thanh Nien)
The defendants were charged with "abusing freedom and democratic rights to infringe the State's interests, and rights and legitimate interests of organizations and individuals."
Of the five defendants, former chief inspector Thanh was absent for health reasons.
Although lawyers of the defendants asked the court to postpone the trial, arguing that Thanh's absence will affect the trial, the court decided to continue.
Three other men at the dock were former Major Dinh Cong Sat, 44, of the Da Nang City Police; former Lt. Col. Duong Tien, 53, former chief representative of Ho Chi Minh City Police newspaper in Hanoi; and Nguyen Phi Duy Linh, 40.

According to the indictment, from late 2006 to the second half of 2007, Thanh and Linh prepared and fabricated information against Da Nang officials.

The information, which investigators found groundless, accused top Da Nang officials of committing some illegal acts, covering up several land scams and wrongfully handling people's complaints some years ago.

For example, they sent a complaint to the Government, in which they made some unreasonable proposals related to the case of Pham Minh Thong, former director of the Quang Nam – Da Nang Housing Trading and Assembling Company.

In late 2006, Thanh told Sat to lodge an application to the Ministry of Public Security for re-consideration of his dismissal in 2005. He promised to help Sat.

Through Thanh, Sat was allegedly assisted by Linh in writing complaints to central official agencies and the mass media to falsely accuse some top Da Nang officials of wrongdoings.

Taking advantage of being a reporter, Linh was said to have arranged for Sat to meet with some Da Nang residents who visited Hanoi to complain about land issues. Later, Sat was introduced to Tien.
On May 14, 2007 in Hanoi, Tien gave Sat Official Letters 73 and 77, which were secret documents from the Da Nang City People's Procuracy sent to the Supreme People's Procuracy "asking for instructions on the case of Tran Minh Thong."

Sat disseminated many copies of the two documents at public places in Da Nang and sent them to some mass media agencies.

While his acts were being investigated by the police, Sat fled from his residence, allegedly told to do so by Thanh. 

During this time, Sat, allegedly incited by Linh, had his two grandmothers – who are Vietnamese 'heroic mothers' – visit Hanoi to complain against legal actions against him and ask for a revocation of the arrest warrant on him.

At court, Sat admitted his offenses and showed repentance, while Linh rejected all the charges against him.

When asked about his involvement in the dissemination of Official Letters 73 and 77, Tien said he did not induce Sat to handout these documents. He also said he did not have any relationship with Thanh and Linh.

According to his previous testimony, Major General Thanh said he had not incited Sat to lodge complaints against Da Nang officials. He also denied any relationship with Sat and Linh.

The court continues its hearing today and is expected to announce its verdict the same day.

Related articles:
Ex-police chief inspector's trial delayed due to sickness
Former police chief inspector to be in dock