After a trial that ran for several days, the People's Court in Da Nang City issued a life imprisonment term to Dang Ngoc Tan for cheating vast amounts of money from innumerable victims.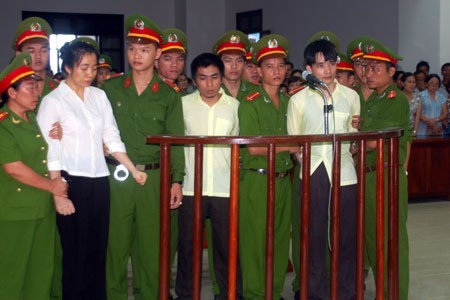 Nguyen Bach Duong, Nguyen Huu Phuoc and Dang Ngoc Tan at the court (Photo: SGGP)
As per the indictment, 31-year-old Dang Ngoc Tan from Hanoi and temporary resident at Ngu Hanh Son District in Da Nang City was sentenced to life imprisonment for stealing citizents' property and causing serious consequences, and his accomplice Nguyen Huu Phuoc, 30, from Son Tra District of Da Nang City, received a 14-year term for stealing property.
Tan's wife, Nguyen Bach Duong, who was charged for 'appropriating property by solicitation', received seven years in prison.

The jury also decided to confiscate a Toyota Venza car worth VND1.534 billion (US$73,108) and a plot of land in My An Ward in Ngu Hanh Son District worth VND2.5 billion ($120,000) as these properties were purchased from the money gained from the thefts.

After Saigon Giai Phong Newspaper released the news, this case raised public outcry as it encompassed almost forty victims who had been fleeced by the culprit.

According to the indictment, from March 2008 to April 2011, Tan and Phuoc had stolen more than VND10.3 billion (around $495,000), mostly from rich peoples homes and government officials.