Police in Dak Lak Province took into custody five truck drivers and their three assistants for illegally transporting over 200 cubic meters of valuable timber over the past two days in the Central Highlands.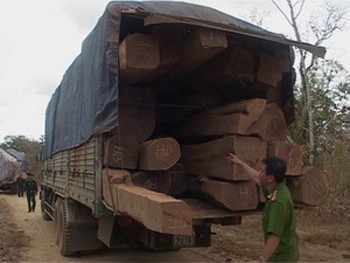 One of the five trucks carrying illicit logs of wood (Photo: VNA)
The five drivers included Nguyen Van Bao, 38, Nguyen Tat Suu, 51, Tran Vinh Loi, 42, from Dak Lak Province and Nguyen Minh, 54, from Dak Nong Province and Tran Ngoc Nguyen, 44, from Binh Dinh Province.
Besides these five, there were six assistants of which three are in custody.
On Sunday night, police in Dak Lak Province caught five truck drivers red-handed when they were illegally transporting 200 cubic meters of precious wood logs from Yok Don National Park in Krong Na Commune of Buon Don District.