The Dak Lak Province police department has ordered police in Buon Ma Thuot City to investigate the recent mauling of a 55-year-old woman by berger dogs raised by a local man and take appropriate legal action.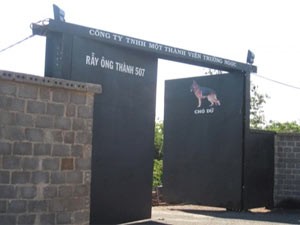 The farm belonging to Pham Ngoc Thanh, where Pham Thi Ngan was bitten to death January 21 by vicious attack dogs bred there (Photo: NLD)
Colonel Y Thoan H'Mok, deputy director of the province's police, told Sai Gon Giai Phong newspaper January 26 that Pham Thi Ngan of H'drat village, Ea Kao commune, was fatally bitten January 21 by berger dogs owned by Pham Ngoc Thanh on a farm belonging to the latter.

The man who managed the dogs and the farm, Nguyen Dinh Son, saw the animals mauling the woman but ignored her pleas to save her, according to Giang Thi Diep, one of two eyewitnesses.

Mr. Son later turned himself in to the police, Col. H'Mok said.

Nguyen Huu Quang, chairman of Ea Kao commune, said Thanh paid the victim's family VND120 million (US$6,500) for her burial.

Van Dang Ky, head of the Ministry of Agriculture and Rural Development's Epidemiology Department, said it has become common practice in the country to breed ferocious dogs and leave them without a leash.

Though many people have been bitten by such berger dogs, the raising of the animals has yet to be regulated, he added.