On June 12, the People's Court in Hanoi opened trial of defendants Phan Thanh Tung and accomplice Truong Trung Hieu, both from Vinh Quynh Commune of Thanh Tri District in Hanoi, for murder and robbery.

According to the indictment, on the evening of December 24, 2011, Tung (born 1993) invited Hieu (born 1994) to join hands with him in murdering his grandmother so that he could acquire her gold earrings.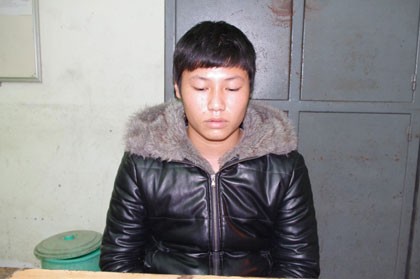 Phan Thanh Tung
Hieu agreed to help Tung in this heinous act and borrowed a motorbike from his father to pick up Tung's 74-year-old grandmother, Nguyen Thi Nhan. After Hieu arrived, Tung told grandmother Nhan that some people wanted to meet her. Deceived by her grandson, she immediately got on the motorbike and sat between Hieu and Tung.
Hieu and Tung drove her to a deserted bridge in Vinh Quynh Commune, where there are several lakes and very few people.
In this isolated location Tung choked his grandmother to death, removed her gold earrings, emptied her pockets of 30,000 dong and then with the help of Hieu, threw her body into the lake nearby.
At the trial both the defendants expressed remorse and regret for their act, but the judge ruled the offence as very serious and immoral.
The trial ended with a death sentence for Tung, and 17 years in prison for Hieu in supporting the crime to rob an old woman. When Hieu had committed the crime he was below 18 years of age and accordingly sentenced to 14 years in prison for murder and three years in prison for robbery.