Da Nang City People's Court has found a defendant not guilty for fraud while prosecutors proposed to sentence him to 20 years in prison.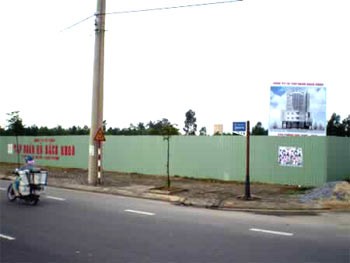 The land in the possession dispute between Nguyen Hoang Ha and Nguyen Thi Bich Tro
According to the indictment, Nguyen Hoang Ha accepted a trade deal for his land of 4,106 square meters, located at Khue Trung Ward, Cam Le District, Hanoi, from Nguyen Thi Bich Tro, chairwoman of Management Board of Thai Duong Co. in December 2007.
The director received a total deposit of VND24.2 billion (US$1.4 million) from Ms. Tro as part of the deal.
Ms. Tro received notification from Bach Khoa on January 18, 2008 that the company was cancelling the agreement.
Da Nang City People's Procuracy hoped the evidence was compelling enough for the jury to convict and give Mr Ha 20 years imprisonment and pay back the deposit.
The jury, however, found Mr Ha not guilty and required relevant officials to restore the 'honor' and 'people's rights' of the director.
In response to the acquittal, Ms. Tro's family expressed their anger and opposed the judgment.
The family said that they would appeal to the Superior Court.