Investigations and confessions by a key member arrested recently for acting against the Vietnamese State have revealed that internal discord plagues the so-called Democratic Party of Vietnam.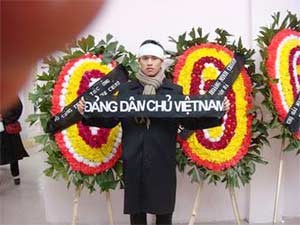 A scene from the funeral of Hoang Minh Chinh last year which the so-called Democratic Party of Vietnam tried in vain to attract membership. (Photo: SGGP)
"The Democratic Party had no office and I, with little experience, had not been successful in attracting people to join the organization. I do not know how many new members have been admitted to the Party," Nguyen Tien Trung, arrested on July 7, confessed to the investigation agency.
In fact, membership of the Party abroad is thin, with some of them also members of other parties at a time, he said.
He said he once asked Nguyen Sy Binh, chairman of the Party, "How many members do we have?" and was told, "We do not even have enough key members, let alone common members. First of all, we must have a group of key members before looking to expand the Party."
In late 2005 Hoang Minh Chinh, a dissident, went to the US for medical treatment and met Nguyen Sy Binh and his colleagues like Nguyen Xuan Ngai and Bui Huu Vi, according to the investigation agency.
They agreed to establish the Democratic Party of Vietnam in Vietnam in 2006 with Hoang Minh Chinh as its general secretary, Nguyen Sy Binh as his special assistant, and Nguyen Xuan Ngai as deputy general secretary.
But Hoang Minh Chinh could not assume his role because of old age and illness, and Mr. Binh temporarily replaced him to run the Party.
In February 2008 Chinh passed away and a fight for supremacy began within the Party. Binh, partly due to his strong financial ability, overcame other rivals to take over the top position in August.
In the face of internal criticism that he "ran after two hares," Binh decided to disband the People's Action Party.
On hearing Le Cong Dinh and Tran Huynh Duy Thuc had been arrested, Binh told everyone that he had never plotted with the two men to sabotage and overthrow the Government.
The party's organization was very unsystematic and went against its charter. Instead of organizing elections to choose leaders as stated in the charter, Chinh, on Binh's orders, appointed Bui Huu Vi as a standing member of the Party without election.
Two other new members, Dinh and Thuc, were nominated to the post of deputy secretary.
Two older members, Tran Anh Kim and Nguyen Tien Trung, were not even consulted about those appointments.
In 2008 Binh convened a congress of the Party in Thailand and proclaimed himself president. He announced the congress was a success despite the fact that Messrs Kim and Trung had refused to attend it.
Notably, Ngo Phat Dat, a man against whom there was a warrant in 2006-07 from the Ho Chi Minh City police for "swindling to misappropriate assets," was appointed deputy secretary general.
According to the Party's charter, members should not belong to any other organization and must be loyal to the Party. But some key figures were members of two or more parties. Mr. Dinh, for instance, joined hands with the so-called Revolutionary Party of Reforms for Vietnam (Viet Tan), a terrorist organization, even while he was general secretary of the Democratic Party of Vietnam.
He, along with Binh and Thuc, also set up the so-called the Labor Party of Vietnam.
Mr. Kim received money from many other parties while he was deputy general secretary of the Democratic Party of Vietnam.
The task of drafting the Party's charter was entrusted to Nguyen Van Dai, who merely copied the charters of other parties.
Returning to Vietnam after studying in France, Mr. Trung colluded with Mr. Chinh to set up the Democratic Party of Vietnam and recruit young people and students as its members.
The two tasks were seen as being of great importance for the development of the Party and achieving what Messrs Binh, Chinh, and Ngai called the "peach blossom revolution."
Mr.Trung was assigned to publicize the Party and promote its image at Mr. Chinh's funeral in February 2008. They wanted to take advantage of the event to solicit more members, but their scheme was smashed by the police.
The Party has, thus, been shown up as being an incompetent group that failed to attract young people and students – normally a vulnerable group -- in Vietnam or abroad for acting against the Vietnamese State.
Related Articles:
Dissident's acts against State published
Police file charges against 2 more subversives