Police investigators in Ho Chi Minh City's Tan Binh District yesterday urgently arrested 46 year old man in Cu Chi District ,  after a video clip in internet captured him firing a tear gas handgun into the air as an apparent threat to a nearby woman during a heated quarrel.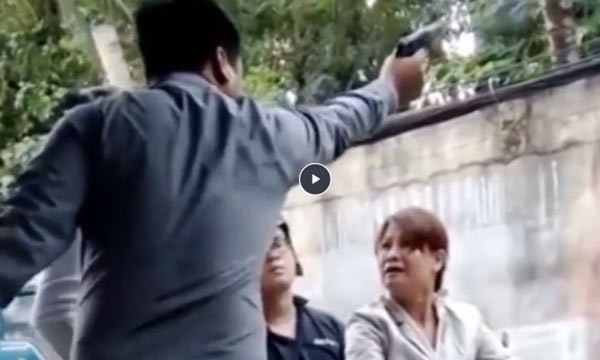 A cut from the video clip in internet shows Phuong is firing into the air to threaten the woman
The man in the video clip is Bui Duc Phuong who is the director of Viet Nhat Safeguard Company.

The 2 minute long clip was posted in social network showing an angry argument between Phuong and a woman and then Phuong shot into the air to threaten the woman and kicked her.

Police said that Phuong had use German-made tear gas gun number RG88 which is licensed to use the firearm under approved circumstances by the police department of administrative management (PC64) until July 15, 2021.
Being a head of the security firm, Phuong was able to obtain and carry the tear gas gun legally as a support tool.

Additionally, through searching for Phuong's car, police detected an ID and police ID with Phuong's name and photo which claimed he was an officer in the criminal police division at the Ho Chi Minh City Police Department. After verifying, police officers said the police ID is a fake ID.

Accordingly, police soon arrested the director for further investigation of making fake document. As per his statement in police station, Phuong said that he made fake police ID because he wanted to show the power to others.