Among members of the so-called Democratic Party of Vietnam arrested recently for acting against the State, Nguyen Tien Trung was an alleged key member, recent police reports suggested.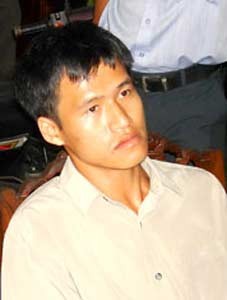 Nguyen Tien Trung, who was arrested on July 7 for the alleged charge of acting against the Vietnamese State (Photo: SGGP)
During his studies in France, Trung, and some other Vietnamese students in France and the US, established a reactionary organization called "Viet Youth for Democracy" in August 2006.
Their purpose was to act against the Vietnamese State and demand a regime change.
Trung was later introduced by Hoang Minh Chinh, another dissident, to Nguyen Sy Binh, an overseas reactionary who is chairman of the said party.
Binh trained Trung in non-violent struggle, with Trung continuing to work under Binh's instructions.
In July 2006, he and two members of the Office of Associations against Vietnam, Nguyen Phuc Tung and Doan Van Linh, launched a campaign to collect signatures against the Vietnamese State.
In December 2006, Trung joined the party and became the head of Committee of Youth Affairs.
He later asked Nguyen Thi Y Nhi, Ta Phong Tan and Nguyen Van Hai to join the party and the Viet Youth for Democracy.
He discussed with Nguyen Sy Binh and Hoang Minh Chinh about personnel and organization issues.
He asked Binh to finance the so-called "Club of Free Journalists" to develop this organization.
He also ran the Viet Youth for Democracy's website and set up a website for the party and a blog.
On these websites and his blog, Trung and his colleagues published articles that distorted the country's actual situation, contained propaganda against the State and lured people to join their organizations.
In 2007 Trung returned to Vietnam and met Le Cong Dinh, who was also arrested recently.
After many discussions, Trung introduced Dinh to his leader Binh, who later designated Dinh to the post of general secretary of the party.
In July 2007, in a letter to Binh, Trung wrote: "The situation in Vietnam is now favorable for us. China has continuously put pressure on Vietnam on Truong Sa [Spratly Islands] and the East Sea issues. The Communist Party of Vietnam is on the defensive.
While carrying out his military service in the Gia Dinh Regiment in March 2008, he said he was a key member of the Democratic Party of Vietnam who was recruited to the Vietnamese People's Army.
He considered this a new move by the army and a signal of a multi-party regime.
A month before that, in February Trung introduced another reactionary, Tran Huynh Duy Thuc, also arrested, to Binh. Since then, Trung coordinated with Binh, Dinh and Thuc in an attempt to overthrow the Vietnamese government until he was arrested on July 7.
Related articles:
Police file charges against 2 more subversives