The People's Procuracy in Dong Nai Province prosecuted six people on May 11 who were involved in an illicit racket of extracting and trading in cooking gas, according to Nguyen Van Tho, deputy director of the People's Procuracy.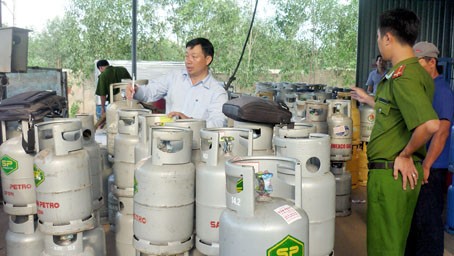 Police conduct a raid at the Gas Viet Company facility
Six people were remanded to police custody for illegally extracting and selling cooking gas. Among the six arrested were Le Van Thin, the ring leader; Dang Gia Tuong, director of Gas Viet Company; Tran Ngoc Long, manager  of Gas Viet Company; Dang Thi Thuong Huyen, the company accountant;  Nguyen Thanh Hai and Luu Van Ngot from the Gas Xuan Hang facility.
Police said that there was enough evidence to confirm that the Gas Viet and Xuan Hang Companies were operating in connivance to illegally extract and trade cooking gas, using sophisticated technology.
The six men were illegally extracting gas and then sticking fake labels of well-known brands on their product, before sending off to the market.
The provincial economic police (PC46) in the southern province of Dong Nai has confiscated eight machines that were used to extract gas, 230 filled and 385 empty cylinders, thousands of seals, counterfeit stamps, and labels of well-known brands such as NT gas, V-gas, VT gas, Saigon Petro, or Petro gas, after they conducted several raids at the Gas Viet and Xuan Hang Company facility.
To further probe into the illegal racket, the People's Procuracy decided to extend the detention period of nine others from the two companies, including Nguyen Nghia Khanh, Tran Van Loc, Nguyen Ngoc An, Nguyen Hieu Long, Nguyen Huu Trung, Luu Phi Hai, Nguyen Hai Dai, Ha Van Ky and Do Van Dinh, who all were also involved in the illicit gas extraction.