After 14 years of development and three revisions, draft amendments to the Labor Law remain contentious.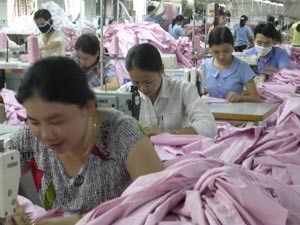 Women with children under 12 months old are entitled to a one-hour break during work but this is made almost impossible for factory workers. (Photo: SGGP)
Current labor laws have not kept pace with societal changes, yet critics say the new bill also fails to address the needs and rights of many workers.
After Vietnam acceded to the World Trade Organization in 2007, many articles in the country's labor laws were deemed incompatible with rules set by the International Labor Organization and labor laws of other ASEAN countries.
Several terms in the labor bill are overly vague, say experts. For instance, employers can unilaterally end labor contracts citing a loss of finances or revenue. They are not required to prove this, however, and rights activists say that many employers take advantages of the term to unlawfully sack employees.
Another article pertaining to businesses transferring workers to another company for less pay, needs to be more closely controlled, say experts.
Current regulations also need revision to more closely reflect the reality faced by many workers, activists argue.
Women with children under 12 months old, for instance, are entitled to a one-hour break during work, but experts say this is made almost impossible for factory workers.
Ms. Nguyen Thi Dan, chief of the labor and wage division at the Ho Chi Minh City Department of Labor and Invalid Veterans and Society, told SGGP there were many weaknesses in the law including issues of employee rights and equality.
In addition, the government must often step in to resolve wage disputes when businesses are unable to deal with a problem themselves, she added.
"Regulations on dealing with strikes have reached an impasse when being implemented in reality because the regulations only refer to legal strikes while most recent strikes were irregular," Ms. Dan said.
Deputy director of Long An Province's labor department Cao Van Thu said that the law is also overly complex in its rules and administrative procedures for both employers and employees, and needs to be simplified.
Penalties for breaking labor laws are not strong enough to deter enterprises, leading many to regularly ignore the rules, he added.
The bill needs to be reviewed, especially the 26th term directing companies to sign 12-month or longer contracts with employees, said Mr. Thu.
The article is ambiguous about the length of time into the future that a contract is valid for and it "raises difficulties for employees because bosses take advantage of the term to dodge the law and authorities cannot protect workers," he added.