In a seminar hosted in Hanoi on July 1, the Drugs Crime Investigation Department disclosed that drug trafficking by air was on the increase in the last few years in Vietnam.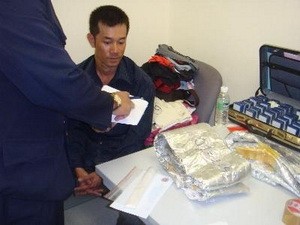 A customs official at Tan Son Nhat International Airport in HCMC uncovered 12 heroin cakes from suitcases of two Australian passengers on May 21 (Photo: VNA)
Police and airport customs officials have uncovered since 2006 upto 57 cases of drug trafficking by air, arrested 119 offenders, and seized more than 67 kilograms of heroin and thousands of synthetic drug pills.
Over the last one year, they have managed to deter 29 cases and arrest 43 offenders.
Lieutenant General Do Kim Tuyen, deputy head of the General Department of Crime Prevention and Control under the Ministry of Public Security, said they will issue a document to guide relevant units with measures to cope with drug trafficking by air.
Training courses will be opened to enhance skills for police and customs officials at airports to cope with this crime.