The border army force in the north central province of Quang Tri on June 19 said that they have bust a drug trafficking ring that was operating between Laos and Vietnam.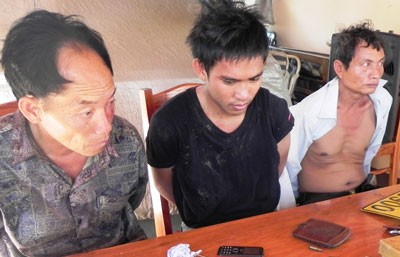 Three Lao men were caught red-handed trafficking drugs in Vietnam
At 3pm on June 18, Vietnamese border army officials worked with the police from Savanakhet Province in Laos to lay in ambush of three Lao men, as they sold drugs in front of Lao Bao International Border Gate.
The three Lao men, aged 63, 52 and 25 come from Bolikhamxay and Savenakhet Provinces of Laos.
Exhibits seized at the scene included 3.5 kilograms of heroin cakes, a K54 gun with nine bullets inside and a KIA brand car with Lao license number plate 0900.
When caught red-handed, one of the offenders attempted to resist officials with a gun.
Later to the investigation team, they admitted that they had bought drugs from Vientiane and transported them by car along the Asian Highway to the border of Vietnam and Laos.
In related news, police departments in the southern province of Dong Nai and central province of Nghe An arrested two men for trafficking drugs on June 19.
The two men named were Hoang Van Yen and Hoang Van Phuc, both 38, who come from Nghe An Province.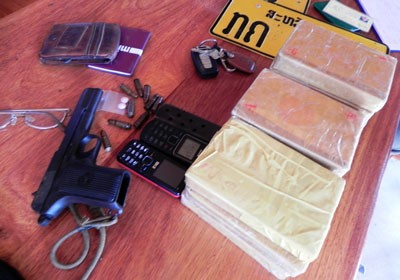 Exhibits collected at the scene in the first case
Police officials examined and uncovered seven grams of drug cake slabs, a small drug package, one gun loaded with five bullets, three cell phones and six million Vietnamese Dong in cash.
They also searched a briefcase and found another six cakes of heroin and nine kilograms of methamphetamine.
The men admitted to regularly travelling to Laos to purchase drugs to sell in Vietnam.