The People's Supreme Procuracy October 12 filed charges against eight of 10 people the Investigation Police Bureau asked to prosecute for embezzling almost US$1.2 million meant for building the Dien Bien Phu Victory Monument in the northern province of Dien Bien.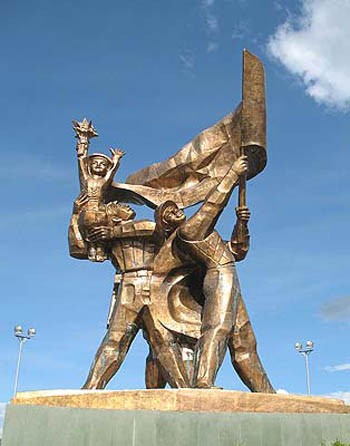 A filed photo of the Dien Bien Phu Victory Monument (Photo: Vnexpress)
The officials being indicted are Luong Phuong Cac, former deputy director of the province's Department of Culture and Information and director of the project; Le Van Vien, Tran Quoc Hung and Nguyen Van Chinh, respectively former deputy director, accountant and technical staff of the project.
Vo Thi Hong, former director of the Central Art Company which was contracted to build statues for the monument; Nguyen Trong Hanh, deputy director of Doan Ket Ltd. Co., a subcontractor; Le Huyen and Nguyen Duc Sung, respectively former principal and head of the industrial molding department of the Hanoi Industrial Fine Arts University are the others being charged.
They are charged with "intentionally breaking the State's regulations on economic management, appropriating public property, and abusing their positions and power while in active service."
The Ministry of Public Security's Criminal Science Institute investigated the case after the Dien Bien Phu Victory Monument quickly deteriorated.
It found low quality building materials had been used and the statue had been built from bronze scrap instead of pure bronze as contracted.
The statue, which stands at the center of Dien Bien town, was supposed to be built at a cost of VND40 billion ($2.2 million).
Mr Cac signed a contract with Ms Hong for the 12-meter statue to be cast using 218.7 tons of pure bronze.
But her company hired Doan Ket Ltd. Co. based in Nam Dinh Province to cast the statue at just VND18.5 billion and the remaining VND21.5 billion was allegedly shared between the indicted parties.