Enterprises or individuals who violate health insurance regulations could face fines up to VND40 million (U$2,000), said a representative of the Ministry of Health at a conference held to draft provisions for administrative punishment in the field of health insurance.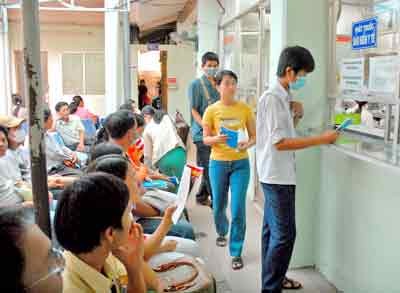 Patients get medicines at the pharmacy in Cho Ray Hospital. (Filed photo)
Specifically, enterprises will be fined from VND500,000 (US$25) to VND2,5 million ($125) for each employee if they do buy health insurance for their employees.
This is one of the subjects discussed at the conference.
 
In addition, acts violating regulations on health insurance which fall under an "abuse of power" umbrella, including over-prescribing certain medicines, unnecessary procedures, fake prescriptions and similar deeds will be met with fines ranging from VND1 million ($50) to VND40 million ($2,000).
Violators caught using false price schemes for medicine or overcharging for hospital services will be fined up to VND25 million ($1,250).