Police from the Environment Protection Department in Gia Lai Province have set up two teams to investigate four agencies monopolizing distribution of 'Dr Thanh' beverage drink in the region.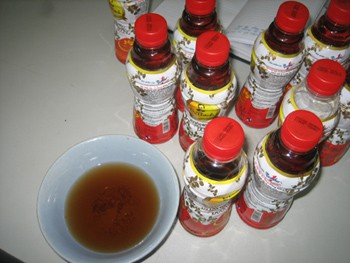 'Dr Thanh' beverage drink bottles were recently found to have sediment deposits (Photo: Laodong)
Do Hung Liem, deputy head of the department said on Wednesday that they had already sent samples of the beverage drink from the Van Hai Grocery Store to the Institute of Hygiene and Public Health in Ho Chi Minh City for analyzing. They are now awaiting test results from the institute, he added.
Van Hai Grocery Store supplied the 'Dr Thanh' beverage drink bottles to the Noi Nho coffee shop at Yen The Ward in Pleiku City, where customers recently found sediment deposits at the base of two of the bottles.

Related article:
'Dr Thanh' beverage drink found contaminated with sediment deposits