San Miguel Pure Foods Vietnam has been fined more than VND 100 million (US$5600) and forced to pay environment protection fees after discharging untreated wastewater into Thi Tinh River, Binh Duong Province.

On Monday, the province's Department of Natural Resources and Environment published a report on San Miguel Pure Foods' dumping more than 230,000 cubic meters of untreated wastewater into the river.

Accordingly, the company will pay an administrative fine of VND106 million for violating regulations on environment protection subject to current legal regulations.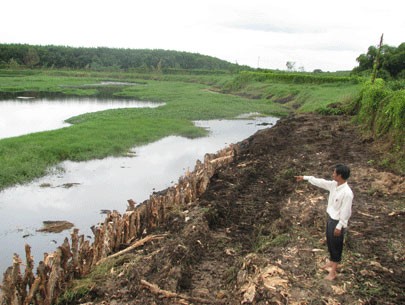 A view of the wastewater tank at San Miguel Pure Foods Vietnam (Photo: Tuoi Tre Online)
Aside from the fine, San Miguel Pure Foods is also required to pay a further VND1.2 billion ($67,000) as environment protection fees due in previous years.

The department gave its report to the province People's Committee, which will issue a decision related to the penalty based on the department's proposal.

Results from tests of the river water, at the section where the embankment of San Miguel Pure Foods Vietnam's wastewater tank was breached, indicated that concentration of COD (chemical oxygen demand) SS (Sewage sludge), nitrogen compound, phosphorous compound, sulfur and coliforms were between 48 and 1.367 times more than legal limits.

The department also demanded San Miguel Pure Foods Vietnam to repair the damage as soon as possible and pay compensation to households that have suffered from the pollution in the region.

Related article: 
Wastewater treatment facility found to be 'inadequate'