Legal experts recently said Vietnam currently has 5,334 lawyers and 2,000 law trainees in the country. On average, this is just one lawyer for every 20,700 people. As well as complaining about the quantity, they complained about the quality.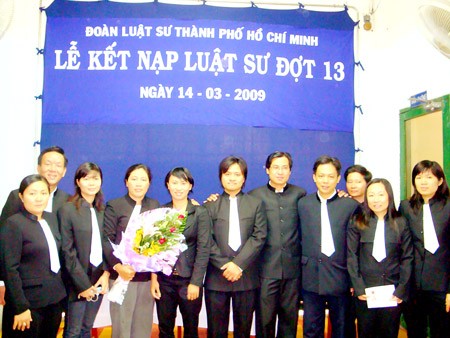 Lawyers at the 13th session of admittance to the HCMC Bar Association (Photo: SGGP).
The ratio of lawyers to population is low when compared to other Southeast Asia countries, and in the world in general.
In Singapore, it is one lawyer per 1,000 people and in the US it is one per 250.
The Ho Chi Minh City University of Law annually trains 2,000 law bachelors. Half of them are from in-service training.
In the North, the Hanoi University of Law also graduates the same number of bachelors a year.
The total number of law students educated by universities in the country is just 6,000 a year, and just ten percent follow a career in law.
Meanwhile, experts said Vietnam needs 20,000 lawyers by 2015 and at least ten percent of them have to be specialized in international commerce.
Remote provinces lack lawyers because they are mainly concentrated in large cities, especially in HCMC and Hanoi.
Apart from the shortage in lawyers, there is concern about their limited skills and morality.
An associate professor, Dr. Mai Hong Quy, said that a law course at the Institute of Judiciary lasts just six months.
Students are only trained in basic matters, such as what a lawyer should do and should not do. The time to educate a law bachelor to become a lawyer is not even up to a year, meanwhile it takes six to seven years in many countries.
Lawyer Phan Thong Anh, a member of the Vietnam Lawyer's Union, said that lawyer courses have opened due to the shortage of lawyers, therefore these courses are usually short and follow quantity not quality.
The training is not uniform, with differences in in-service training, regular training, distance training and the age of learners.
This has caused difficulties for standardizing teaching content, as well as programs leading to the low quality of lawyers.
As a result, in the working process, many lawyers show poor skills and violate basic behavior regulations.
Lawyer, Nguyen Thanh Cong, from Dong Phuong Luat Co., said that to train qualified lawyers, universities should restructure their teaching programs, by increasing practical subjects with specific professional themes.
Senior lawyers should also communicate with the younger lawyers to help them with experiences and skills in the career.